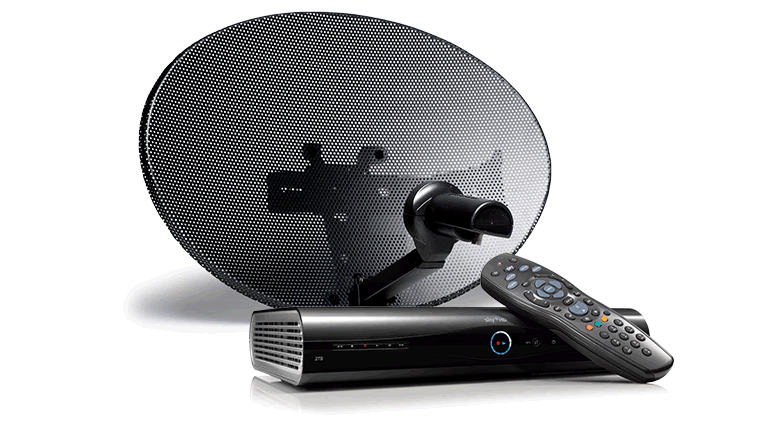 Sky Digital TV offer a wide range of services and packages to suit any budget. Over 9 million UK households have now chosen Sky as their digital TV provider.
Sky Installation
AKM Aerials are independent Sky installers this means to you, that we can organise Sky cards, buy the equipment on your behalf and install it all for you. The price for the monthly subscription, and the content, is the same whether it is us who gives you the Sky card, or Sky themselves.
Sky+
Sky+ has revolutionised how we watch TV. With easy to use features such as live pause & rewind, one touch recording and series link it has changed how we watch TV forever.
Sky HD
Experience television like never before with sharper detail and superb quality sound. Feel closer to explosive dramas, hear all the big moments in sport and see the latest blockbuster movies in your living room, all in stunning high definition.
Freeview and Freeview+
So what is Freeview, or Freeview plus even?
Quite simply, Freeview and Freeview+ channels are a great line up of channels that have been around for a while now and they are free!
There are currently 48 TV channels and 24 radio channels, all available without subscription, including ITV2,3,4, BBC 3, 4 and many many more. To receive Freeview chanels is easy. You only need to plug in your Freeview compatible aerial to your Freeview set top box, and that is it!
You do have to make sure that your aerial is compatible with digital however, but you will soon find out when you install the box.
Freeview +
Freeview + is like Sky + if you have seen it. The Freeview + box has an extra hard drive built in to allow you to be able to record, pause and continue watching the programs. It is a great idea and a natural progression for Freeview channels.
FREESAT INSTALLED BY THE PROFESSIONALS
Freesat is provided FREE of any monthly charges and boasts FREE HIGH DEFINITION VIEWING! Launched in Spring 2008, the service now boasts in excess of 140 digital TV and Radio channels. McQueen Media are Freesat installation specialists, and can install or repair a Freesat satellite system of your choice.
Freesat requires NO monthly subscription, charges or contract to receive the fantastic FREE channels on offer! All that is required is the installation of a new Freesat digital satellite system, which is a 'one-off' cost. can supply and install Freesat SD, Freesat HD and Freesat HD Recordable satellite systems. Be sure to contact McQueen Media for information and advice on which Freesat digital satellite receiver is suited to your requirements.
A TYPICAL FREESAT INSTALLATION FROM MCQUEEN MEDIA INCLUDES:
Freesat SD, Freesat HD or Freesat HDR Digital Satellite Receiver
•Zone 1 Freesat Compatible Single Output Mini Dish (Quad Output for HDR)
• High Quality Steel Support Bracketry & Mast
• Digital Grade High Quality Low Loss Coaxial Cable
• Satellite Dish Aligned By Digital Signal Meter - Guaranteed Great Reception!
• All Installations are Digital Switchover Compliant
• 1 Year Parts & Labour Guarantee As Standard
• FREE SITE SURVEY FOR ALL Freesat INSTALLATIONS